STD East Flea Market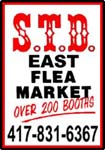 Located just east of Glenstone on E. Trafficway. Come in and enjoy the Flea Market Experience. Browse through booths with collectibles, antiques, furniture, tools, books, and much much more. Shop Till-ya Drop!
Photo Gallery
Click on a photo below to enlarge and begin slideshow.
Large slideshows may take a minute to load.
Hidden Treasure